Data Center Uninterruptible Power Supplies (UPS)
UPS SYSTEMS
A UPS is, essentially, a battery backup that supplies power to your system in order to provide enough time to properly power down your equipment when there is a failure in utility power. You may have a facility that already has a UPS (Uninterruptible Power Supply) or even a generator. A UPS unit is necessary to ensure that no power interruption occurs, even if you have a generator. A UPS unit alone will only keep the units powered for a limited amount of time, usually less than 30 minutes, but can be used in conjunction with a facility generator to ensure that your infrastructure continues to run even in extended power outages.
UPS failure is a major cause of data center downtime
It is always a good idea to protect your critical systems. Some studies show that UPS failure is the #1 cause of downtime in data centers worldwide, above even cyber crime. Any node in your cluster that is crucial to its operation, such as the master (head) node and its backups, administrative nodes, and critical storage nodes should be connected to a UPS. Operating these nodes on UPS ensures that a sudden power blackout (power is lost completely) or brownout (temporary low dip in voltage levels) does not cause these nodes to crash, which risks file system or hardware damage. Brownout or drop-out situations are hidden from a node protected by UPS, and if the blackout lasts long enough to drain the UPS battery, monitoring software can effect an orderly shutdown of the node(s) to minimize possible file system damage and facilitate a clean reboot process later.
Additional UPS runtime can be configured for your cluster by adding additional battery packs to your UPS system(s) as well. Speak to your Aspen Systems sales engineer about your specific UPS needs.
Prevent Data Loss
In the case of a catastrophic shut-down, any data that is in memory but not saved to a non-volatile storage device such as hard drives or NVME will be lost forever. During such an even, failing to have a functioning UPS can mean losing the work of thousands of users logged into your system. Aspen System's Engineers will guide you through your options and ensure that this never happens, from choosing the correct UPS, to integrating it with your network monitoring software, and putting in place contingency plans for automatic backup in case of such an event. Contact us via Email, call us at 1-800-992-9242 or chat with an engineer live to make sure this never happens to your data center.
Avoid Hard Shutdowns
A hard shutdown can not only mean lost data, but in some cases can lead to equipment damage or corrupted configuration, leading to more downtime, maintenance and repair costs. A UPS system is crucial to minimize the stress a hard shutdown causes on your electronic equipment.

---
APC 4U Smart UPS SRT-5000VA RM 208V
---
APC Smart-UPS SRT 8kVA RM with 208V to 120V 2U Step-Down Transformer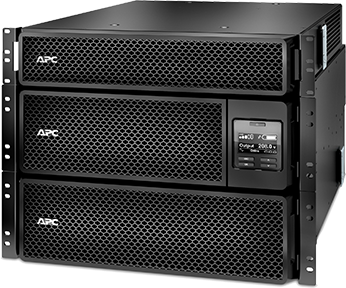 ---
APC Smart-UPS SRT 8kVA RM with 208V to 120V 2U Step-Down Transformer
The battery life of a UPS can vary by system and depends on how much power is consumed by your system. A UPS gives you time to power down sensitive equipment, servers without loss of data. Different UPS systems also provide certain levels of protection for other power problems that arise. Some UPS systems, such as "standby" and "line-interactive" systems, do not offer the kind of protection that double-conversion (online) UPSs do.
Standby UPS are a basic UPS system which offers only the most basic features. Most workstation UPSs use this technology. The UPSs output socket that the equipment is pluged into is physically connected to the same line that is charging the battery. When there is a power failure, the line then mechanically switches to the battery power. These are usually non-configurable boxes that can not be expanded and have very few features.
Line-interactive UPSs are substantially more advanced than a typical standby UPS, and can handle more than just power outages (blackouts). Line-interactive UPSs have an autotransformer which can modify the number of powered coils of wire to to adjust the output voltage, which smooths out short-term under-voltages or over-voltages.
The Online double-conversion UPS provides the highest level of power protection for critical applications, and is usually used in data centers. In contrast to Standby and Line-interactive designs, an online, double-conversion UPS continually regenerates new, clean AC power through its continuous duty inverter and seamlessly transitions, even matching the phase the mains line operates on, so your equipment can't tell the difference. It has layers of protective circuits that keep connected equipment safe and ensure it is receiving conditioned and regulated power. They usually provide longer periods of time, as they often contain more battery packs.
Some lower-cost UPSs do not have the same battery life as the more robust systems. For instance, valve-regulated lead-acid (VRLA) batteries are usually rated at 3 to 5 years. In Standby and Line-interactive models, however, poor frequency regulation on the mains line can cause excessive switching, which can reduce the battery life. However, having a good Power Distribution Unit can mitigate most of these issues.
Discover your options
Energy Metering is available in many units, so you can track kilowatt hours.
Multiple switched outlet groups that may be controlled separately from the UPS for discrete reboot of hung devices, sequenced on/off and non-critical load shedding.
Extendable battery packs – add or update battery packs as the need arises.
Generator compatibility – Many Mission-critical equipment simply can not go down, even when the power grid goes offline. This means an on-site backup generator is available as a contingency measure. Ask an Aspen Systems engineer to select a UPS that can provide clean, uninterrupted power to protected equipment when generator power is used. We will work with your facilities manager to determine requirements. A qualified sales engineer is available via Email or chat, or phone at 1-800-992-9242, to help you make sure power interruptions are handled smoothly.
Security – Many UPS meet or exceed cybersecurity standards such as UL 2900-2-1 or UL 2900-2-2 for Network-Connectable Products. Some applications or regulations require certain standards be met for critical systems. Make sure to Contact a qualified sales engineer if you have questions about which UPS system meets your requirements.
Modular design – some of the large UPS systems offer a modular design allowing for improved serviceability and reduced maintenance requirements by utilizing field-replaceable modules.
Network Management – Put your UPS on the network and control it remotely via software. Integrate UPS management with other Data Center Infrastructure Management (DCIM) systems to control Power Distribution Units and Cooling Systems all in a central location.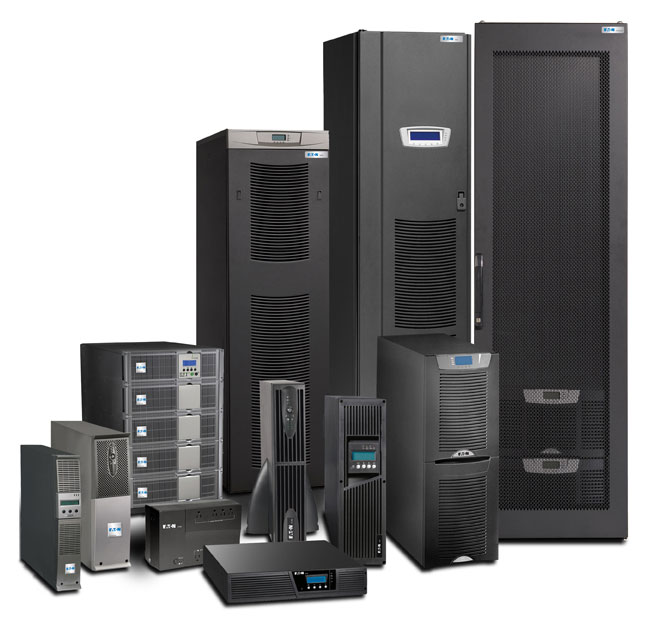 A UPS for Every System, Large or SmallThe PowerWare MGE Family of UPSs from Eaton
The PowerWare MGE Family of UPSs from Eaton Email, chat, or call us at 1-800-992-9242, to discover the best solution for your data center.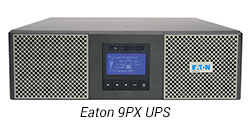 Reliable. Versatile. Powerful. Efficient.
Eaton provides energy-efficient solutions that help customers effectively manage electrical power more efficiently, safely and sustainably. Combining extended runtime capabilities and exceptional efficiency, the Eaton 5PX UPS is a powerful enterprise class backup solution. An ENERGY STAR qualified UPS, the 5PX's managed outlet segments allow you to monitor energy consumption down to the outlet level on its intuitive LCD screen, while convenient virtualization-ready bundles and Intelligent Power Software Suite enable seamless management in virtualized environments. Read more about the Eaton 5PX UPS.
Eaton 9PX UPS integrates seamlessly into just about any IT environment. It's ideal for keeping servers, switches, voice/data networks, and storage systems online, supporting your overall goal of business continuity. Delivering premium backup power and scalable battery runtimes for servers, voice/data networks and storage systems, the Eaton 9PX UPS is the ideal solution for both rack and stand-alone installations. Read more about the Eaton 9PX UPS.