Infortrend Technology, based out of Taiwan, provides a wide variety of data storage products and services in the HPC space. They offer a large selection of RAID storage solutions, storage options (HDD, SSD, JBOD), with several form factor choices, and software tools. The products cover SAN Storage, Enterprise All Flash, Hybrid Cloud Storage Appliance, Unified Storage(SAN + NAS), AI Storage Appliance, and Entry Commercial NAS.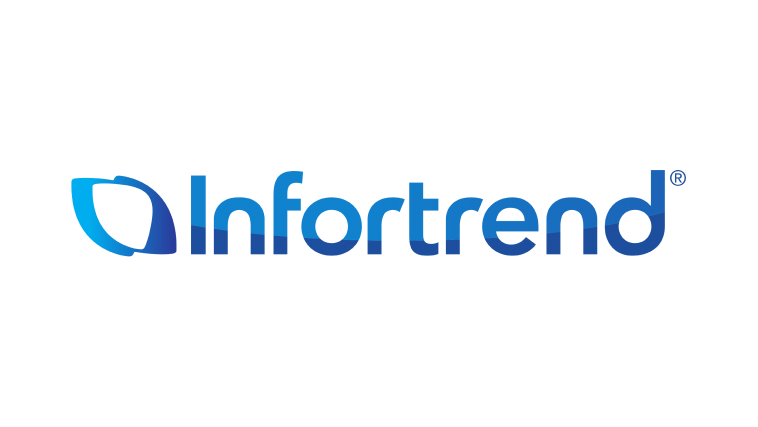 EONSTOR DS FAMILY
Cost-effective enterprise hybrid (SSD/HDD) storage with dual active controllers
Designed for enterprises, EonStor DS is a high availability SAN storage solution. It comes with a variety of form factors, flexible host boards to choose from, and a stable, reliable modular design with high expandability; as for software, it has comprehensive data services and a simple management interface. It is suitable for all SAN environments and enterprise applications (such as database, virtualization, video editing, backup, and surveillance). The entire product line is fast, flexible, and reliable, so you can find the perfect storage device according to your performance or budget requirements.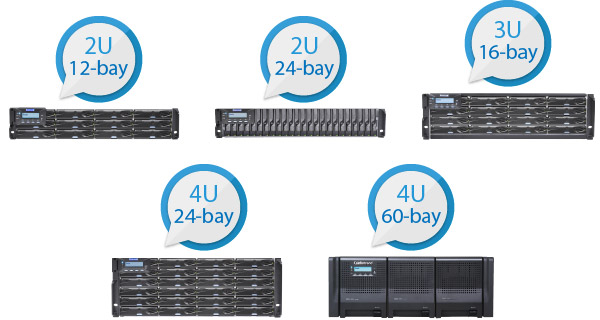 DS 4000/3000
Powerful Solution for General Purpose
EonStor DS 4000/3000 series are high performance SAN solutions designed to handle large amounts of I/O even with high workloads. Small and medium-sized businesses as well as large enterprises can utilize them to fit all storage needs and boost overall productivity.
In addition to various form factors, four different modular host board configurations are available to meet the needs of various applications and architectures for more deployment flexibility. Due to its high performance, flexibility, and expandability, it is capable of running mainstream critical applications on the market. As a general storage solution, the DS 3000 is well suited for the budget-conscious while the DS 4000 is the best choice for performance-conscious users.
DS 1000/2000
Cost-Effective Solution
SMBs and ROBOs will benefit from the entry level enterprise solutions offered by EonStor DS 2000/1000. In addition to providing non-stop services and complete data backup features, they allow IT personnel to efficiently manage all kinds of light SAN workloads at an affordable cost.
EonStor DS 2000/1000 storage systems have extraordinary expandability of more than 4PB in storage capacity and modular host board slots, allowing them to easily meet future data growth and architecture transformation needs. The DS 2000 would be the most suitable choice if IOPS was the main concern, otherwise the DS 1000 would be a great choice for those on a tight budget since it can provide ample storage space.
EONSTOR GSA FAMILY
Optimized SSD performance for time-demanding applications
With the Infortrend GSa all flash unified storage, you can gain optimal performance with low latency, extend the SSD lifespan, and find a wide range of form factor, performance, and connectivity options to meet the demanding requirements of today's modern datacenters. Under high workloads, GSa can tackle large amounts of data input and output, and can reach more than 700K IOPS for random reads under 0.5 milliseconds of response time.
EonStor GSa Models
GSa 2000 provides great value in terms of cost/performance providing power of flash storage and compatibility with nearly all businesses.
GSa 3000 and GSa 4000 are next-generation optimized solutions that offer high performance for enterprise applications, such as database, virtualization, VDI, Microsoft Exchange, and M&E-related applications.
EONSTOR GS FAMILY
Enterprise-class Unified Storage Integrating SAN, NAS and Cloud
The EonStor GS platform combines file-based (NAS) and block-based (SAN) storage into a single platform to enable SMBs and large enterprises to manage both types of storage. With redundant controller designs that ensure high availability, it increases performance and reduces downtime, providing you with a reliable system.
GS is a great choice for running general-purpose applications and mixed workloads, including databases, virtualization, media, and file sharing.
GS 3000/4000
Powerful Performance Meets Large Enterprise Workload
GS 3000/4000 ensures better transmission with exceptional SAN and NAS performance for customers. Under heavy workloads, these series provide the ability to handle large data transfers and I/O.
GS 1000/2000
Non-Stop Solution that Satisfies SMBs Demands
GS 1000/2000 offer an entry-level unified storage platform that can manage all types of light SAN and NAS workloads efficiently at an affordable price.