UNPARALLELED COOLING PERFORMANCE FOR YOUR DATA CENTER
Liquid cooling has come a long way. Today's liquid cooling tecchnologies are more robust and efficient than ever, with lots of options to choose from.
Data centers around the globe are being mandated to simultaneously increase energy efficiency, consolidate operations and reduce costs. Each year, data centers consume approximately two percent of global power consumption. The Green Computing revolution is well under way, and liquid cooling systems are a key component.
Multiple Advantages
There are great advantages to liquid cooling over air cooling due to the thermal conductivity of liquids. The technology has been evolving for more ideal data center cooling, being driven by increasing density in HPC systems. If noise is an issue, liquid cooling may be your best choice. The sound of hundreds of air-cooled fans buzzing away may not be acceptable. In such cases, liquid cooling can help dramatically.
In some cases, liquid cooling can be more efficient than air cooling, and higher thermal conductivity allows for more precise temperature control. Because of the thermodynamic properties of liquid water, especially when enhanced with coolants, heat can be transferred further away from your data center. Higher efficiency means less environmental impact for green computing. Implementing liquid cooling can sometimes reduce the complexity of your heating system, reducing the need for secondary cooling systems, and thus reducing maintenance cost, leading to, in some cases lower total cost of ownership (TCO). However, depending on your existing infrastructure, liquid cooling may not be the best option. Make sure to contact us via Email, call us at 1-800-992-9242 , or through our live chat to find out more about your cooling options.
Is Liquid Cooling Right for Your Data Center?
If the thought of having a liquid flow through your servers in a tube makes you cringe, you aren't alone. If the cost to get a water cooled system up and running for a cluster makes you squirm, again, you aren't alone. However, as technology requires more power and cooling, we have to accept the fact that liquid cooling is here to stay. With the increasing capacity of racks and thermal design power of modern processors leading to greater need for efficient heat dissipation, you can no longer afford to ignore liquid cooling systems.
These days, you don't need to figure out what parts to get and from which manufacturer anymore, because manufacturers are creating kits for different systems. The engineers at Aspen Systems have worked with these manufacturers and can easily determine what you need for your solution. All of these advances are making it so that these solutions are becoming more affordable and more durable, leading to less failure and higher efficiency in your systems.





DIFFERENCE FROM TRADITIONAL AIR-COOLED DATA CENTERS
There are multiple ways to cool your data center. One of the more traditional ways data centers are being cooled is by Computer Room Air Conditioning (CRAC) or Computer Room Air Handler (CRAH) units. These are large air conditioning units that cool the entire data center. This usually has either a front-to-back cooling. While this method is commonly used, it is not always the most efficient, as the hot isles aren't always very well contained. Also, you most likely would need a raised floor for the best efficiency.
APC has come up with one way to contain the hot aisle, and that is by creating a hot aisle containment and using in-row coolers. These in-row coolers sit in between the racks and take the hot air from the hot aisle (contained by a roof and doors), cool that air, and blow it into the cold aisle. A raised floor is not necessary for this model.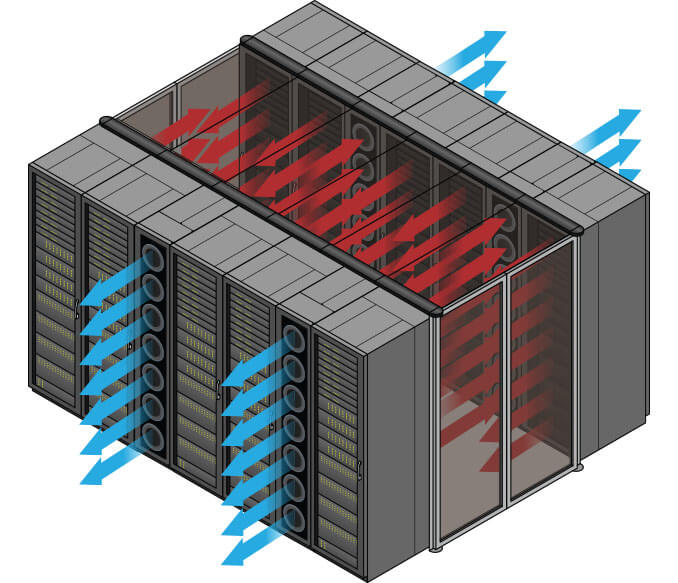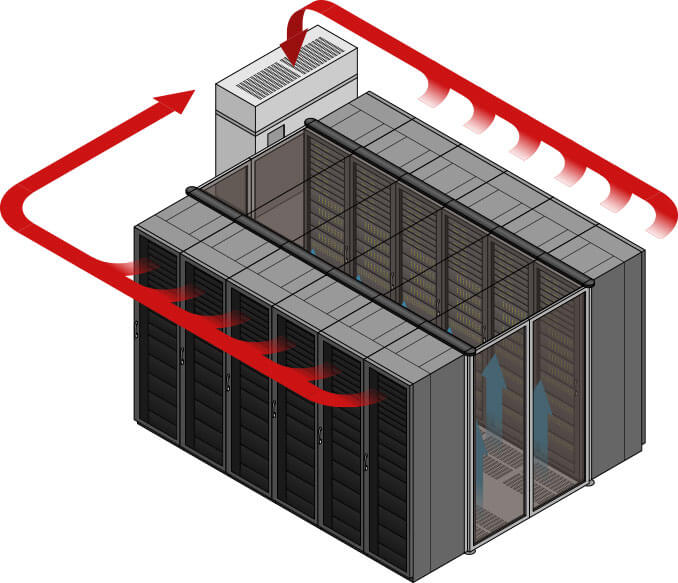 In today's data centers, traditional cooling approaches involve complex air distribution systems that tend to be unpredictable. With InRow cooling, placing the unit in the row of racks moves the source of cooling closer to the heat load, minimizing air mixing and providing a predictable cooling architecture.
Remember that some of the solutions described are less costly than others. Some of the more cost beneficial cooling solutions are to ensure that your current system is fully optimized and serviced, while properly sealing the floor and adopting row‐based/hot‐aisle arrangements. Whether you require modular systems for close‐to‐the‐source hot‐zone targeting, or a fully contained thermally‐neutral system, Aspen Systems can help you decide on the appropriate liquid cooling architecture for your HPC system.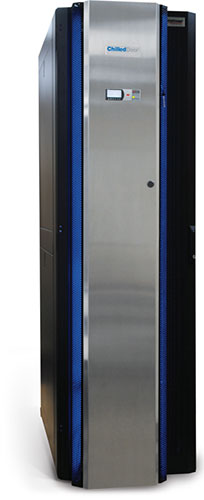 A Whole New Cooling Experience
Motivair has a long history of cooling critical process facilities and production equipment. From its earliest days of industrial compressed air treatment to today's cutting-edge chiller and cooling system design and implementation, the Motivair brand is synonymous with process cooling.
The ChilledDoor Rack Cooling System will change the dynamic of how your data center is cooled. By using advanced "Active" rear door heat exchanger technology, your cooling system becomes a dynamic entity, reacting to minute-by-minute changes in computing loads of up to 75kW. ChilledDoor keeps your computing environment "heat neutral".
The Chilled Door has the ability to completely transform the way your data center is cooled. Its unique ability to utilize warmer water sources such as cooling towers, river water, and high setpoint Free Cooling chillers creates efficiencies that extend well beyond the white space. Imagine improving your data center cooling by up to 70%. Tomorrow's Power Usage Effectiveness (PUE) targets are available today.
Highly Customizable with Muliple Options
M4
M8
M12
M12-SP
M14
G2
M16
Available Height Range
42U-60U
42U-60U
42U-60U
42U-60U
42U-60U
48U-60U
48U-60U
Avaiable Width Range
600-800mm
(23″ – 31″)
600-800mm
(23″ – 31″)
600-800mm
(23″ – 31″)
600-800mm
(23″ – 31″)
600-800mm
(23″ – 31″)
762-800mm
(30″ – 31″)
762-800mm
(30″ – 31″)
Depth
13.3″
13.3″
13.3″
13.3″
15.7″
16.8″
17.5″
Cooling Capacity (kW)*
12
30
45
55
65
70
75
Max Watts
840
840
840
840
2500
840
2500
*Calculated at 35% RH and 75F Room Temp; Supply Temperature Range 55F =- 65F water; 100% water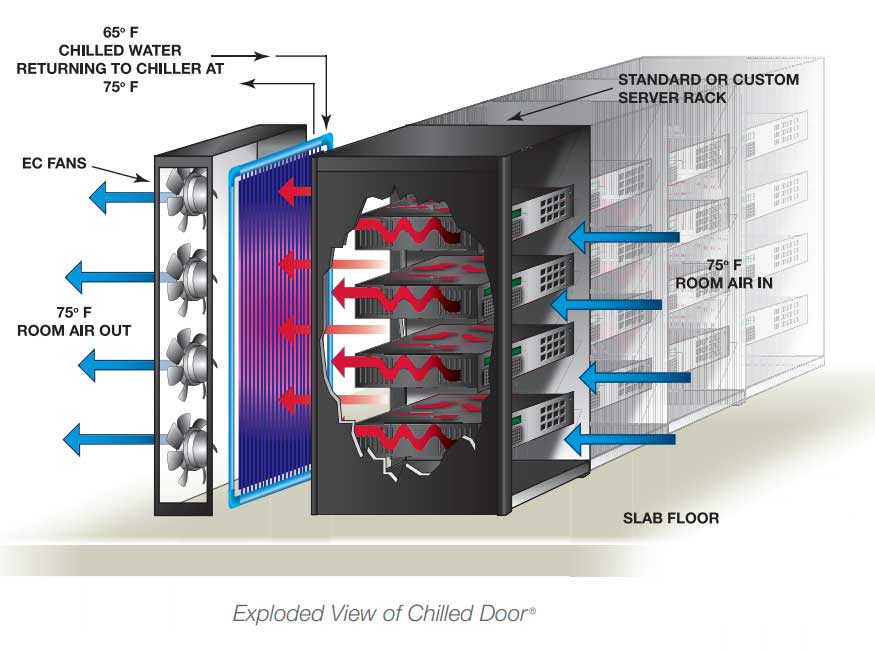 High-Efficiency Liquid Cooling for CPUs & GPUs
Asetek has leveraged its expertise as the world-leading provider of efficient liquid cooling systems to create solutions for data centers that address these mandates by providing energy savings, cost savings, density increases, and noise reduction. Because liquid is 4,000 times better at storing and transferring heat than air, Asetek's solutions provide immediate and measurable benefits to large and small data centers alike.
RackCDU D2C (Direct to Chip) is a "free cooling" solution that captures between 60% and 80% of server heat, reducing data center cooling cost by over 50% and allowing 2.5x-5x increases in data center server density. D2C removes heat from CPUs, GPUs, and memory modules within servers using water as hot as 40°C (105°F), eliminating the need for chilling to cool these components.
Chilling is the largest portion of data center cooling OpEx and CapEx costs. With RackCDU D2C, less air needs to be cooled and moved by Computer Room Air Handlers (CRAH) or Computer Room Air Conditioning (CRAC) units. Further, liquid-cooled servers need less airflow resulting in more energy-efficient servers.
Asetek InRackLAAC
The Asetek InRackLAAC system is capable of removing up to 6.4 kW of total processor power from liquid cooled servers. The system is designed to be installed in traditional air-cooled data centers and enables deployment of high wattage processors in clusters with high interconnect densities without the need for costly infrastructure changes.
Designed to work with Asetek Direct-to-Chip (D2C) cooling loops that captures between 60-80% of server heat, the existing CRAC and CRAH units in the data center rejects the heat captured from the liquid cooled servers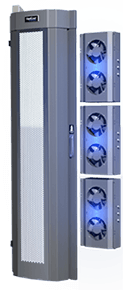 A Fully Integrated Close-Coupled Cooling Solution
OptiCool Technologies is a leading provider of innovative data center cooling solutions. OptiCool specializes in refrigerant-based, close-coupled cooling solutions designed to support a wide variety of data center applications, including both low-density to high-density.
The CDS is mounted at the rear of the IT equipment (typically server) cabinet and removes the heat from the exhaust air. The CDS is modular and can include up to 3 AHX cooling units per door. The design of the CDS allows easy access to the IT equipment by opening and allowing full access to the back of the rack similar to a standard rear enclosure door. The CDS is made of lightweight materials and is readily available in standard cabinet sizes. In addition, there are many cabinet manufacturers that offer "OptiCool Ready" products, where the CDS attaches directly to the cabinet using existing mounting points. For retrofits, we offer door transition kits (DTK) for seamless integration for all major manufacturers cabinets.
OptiCool Technologies award-winning OptiCool data center cooling solution is the latest in technology innovations that maximize efficiencies in cooling, power utilization and space within the data center. This solution allows for adaptability to any rack or cabinet and is flexible and scalable enough to meet the needs of the data center today and in the future.
Effective, Reliable & Easy-to-Integrate Rack DCLC Solutions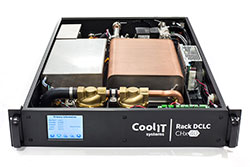 CoolIT Systems is the world leader in energy efficient liquid cooling solutions for the HPC, Cloud and Enterprise markets. As an experienced innovator with 52 patents and more than 2 million liquid cooling units deployed in desktop computers, servers and data centers around the world, CoolIT Systems Direct Contact Liquid Cooling (DCLC) technology is the top choice for OEMs and system integrators.
Rack DCLC modules are designed for a flexible fit to benefit various compute environments. While Server Modules and Manifold Modules are installed with each system and are local to the rack, the appropriate heat rejection method may vary. Rack DCLC offers a variety of heat exchanging modules depending on load requirements and availability of facility water.
Energy and Space Efficient Data Center Cooling Solutions
Coolcentric delivers the world's most energy and space efficient cooling solutions and data center cooling equipment for reducing data center costs. Coolcentric patented products for rack-level cooling allow customers to optimize data centers for maximum performance and return on investment.
The Coolcentric family of heat exchangers comprises of passive, liquid cooled heat exchangers, Rear Door Heat Exchangers (Standard RDHx and Low Density RDHx-LD) replace standard rear doors on IT rack enclosures, and the Sidecar is an in-row heat exchanger. Close-coupled to the IT enclosure, the heat exchangers bring cooling as close to the heat source as possible thus providing the ultimate containment solution. Taking up a minimum of floor space, the Coolcentric heat exchangers are flexible, efficient and space-saving turn-key data center cooling solutions.
The Coolcentric RDHx-LD is a new member of the Coolcentric family of rear door heat exchangers designed to extend available energy and cooling efficiencies, and resulting cost savings, to installations with low to medium rack densities of 5-12 kW. The RDHx-LD can be intermixed with other RDHx family products in a data center installation to accommodate low, medium and high density requirements.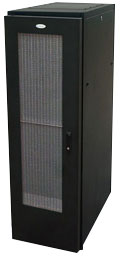 IMPROVE YOUR DATA CENTER'S POWER EFFICIENCY
Improving a data center's power efficiency will greatly reduce the necessary cost to cool the facility. Utilizing higher voltages and the latest UPS/PDUs will improve overall energy efficiencies and thereby decrease wasted heat output. Remember that 1 Watt of power consumed requires 1 Watt of cooling. So, understanding your heat/wattage output will also help you to configure the optimal and most efficient cooling solution. See the section on Power for a more detailed explanation about the benefits of using higher voltages and latest generation power components.