RACK ENCLOSURES FOR HPC DATA CENTERS
For rack enclosures, Aspen Systems mostly uses racks from APC. The NetShelter line of racks (shown below) is one of the most widely used racks in the HPC space. Each rack is shipped fully built and cabled for easy installment on-site. Should our customers prefer other racks, our Engineers have experience using other racks as well including those from Raritan, Tripp Lite, ServerRack and others. Available in 24U, 42U, 45U, and 48U heights, 24 in. and 30 in. widths, and 32.5 in., 42 in., and 47.5 in. depths.
When configuring your solution, Aspen Systems Engineers will draw out a full rack diagram with locations of each server, switch, and other equipment. They will then make sure proper cable lengths are supplied to you. The end solution is a properly built up rack with neat cabling, and power and cooling requirements met. Read more about APC NetShelter Rack Enclosures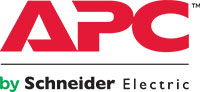 NETSHELTER SX ENCLOSURE FEATURES
More standard features for faster installation
➊

 Cable Access Roof
Eight cable entry slots
Toolless mounting of overhead cable trough system
Snap-in mounting to allow easy roof removal and installation with cables in place
➋

 Integrated Baying Brackets
Preinstalled on frame, front and back
Spacing options at 24 in.
Bays with other Schneider Electric power and cooling products
➌

 Leveling Feet & Castors
Easily adjustable leveling from top-down
Castors standard on all enclosures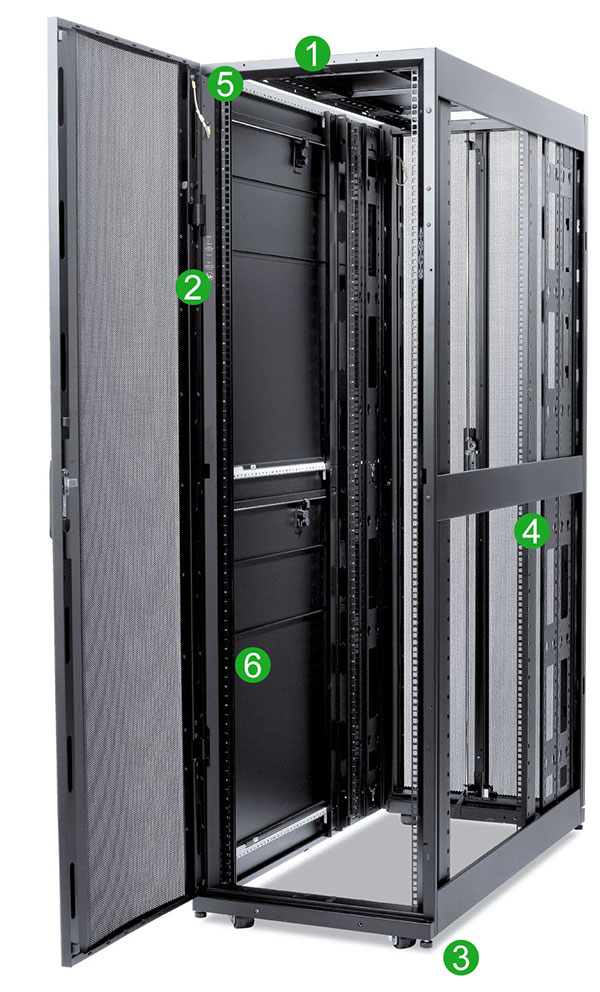 ➍

 Zero-U Accessory Channel
Toollessly mount rack PDUs
Toollessly mount vertical cable organizers
➎

 Vertical Mounting Rails
Simple screw and cam engagement
Captive screws — no loose hardware
Easy visual alignment for quick adjustment
Adjust in 0.25 in. increments through enclosure
Hole cutouts for 0U installation (AR8469) of Data Distribution Cable (DDC) accessories
➏

 Half-Height Side Panels
Easy and safe handling
Quick release latch
Lockable — same key as doors
Enclosure width remains the same with or without sides attached
The NetShelter SX is a multi-functional rack enclosure influenced by customer feedback from around the world. These enclosures are designed to meet current IT market trends and applications ranging from high density computing and networking to broadcast and audio-video. With a strong focus on cooling, power distribution, cable management and environmental monitoring, the NetShelter SX rack enclosure provides a reliable rack-mounting environment for mission-critical equipment. It is an easy, reliable solution for anyone in charge of Data Center Infrastructure Management (DCIM)
Sometimes, adding a few extra inches to the chassis size can have dramatic results and make it easier to cool, work with and maintain.
In data centers with 1-3kW/rack, the most popular IT racks have been 600 mm (24 inches) wide, 1070 mm (42 inches) deep, and 42U tall. However, Aspen Systems now provides data centers with a wide variety of IT equipment densities and form factors and the appropriate racks and accessories these systems require.
For instance, in racks housing 5kW and above, the 600mm xX 1070mm is no longer optimal as higher density rackmounted PDUs and higher cable widths crowd the inside of the rack.
Don't get overwhelmed by your options! The team at Aspen Systems can guide you through your options and ensure you are getting the correct components for your needs. We are available via Email, phone at 1-800-992-9242, or through our live chat.
Height Options
24U enclosures

Remote offices and small spaces.

42U enclosures

Standard height used globally, designed to fit through standard doorways.

45U enclosures

Enclosures with additional U-spaces for environments that standardize on a 45U, 7 ft. enclosure height.

48U enclosures

More U-spaces for more equipment in the same footprint.
Width Options
24 in. (approx 600mm)

Standard for most server applications. For higher densities, a deeper enclosure may be required.

30 in. (approx 750mm)

Extra-wide for better cable management and air flow. They offer more space for high-capacity cable management and power distribution. Often used for networking applications but the extra side space is convenient for blade servers.
Depth Options
32.5 in

Primarily used for audio/video applications.

42 in.

Standard depth and meets most low- to medium-density applications

48 in.

Extra-long depth enclosures are becoming the new standard because of increasing server depth crowding cable and power space.
EVERY DETAIL IS IMPORTANT
We use specially designed pallets for shipping each completed rack.
These are high-quality, heavy-duty pallets to ensure racks are securely transported.
To learn more about how Aspen System's commitment to excellence (even in the details) can benefit you, contact us.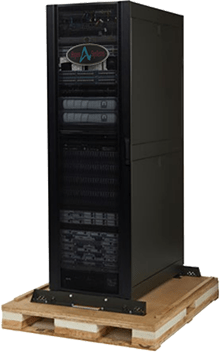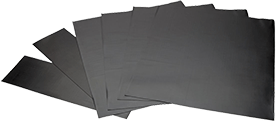 Magnetic blanking panels for airflow management
To help with air flow and cabling work, Aspen Systems offers magnetic panels that have fanned edges, placed in air passageways on the chassis, to allow for optimizing air flow within the chassis. Prevent air re-circulation and reduce bypass airflow, improving cooling efficiency.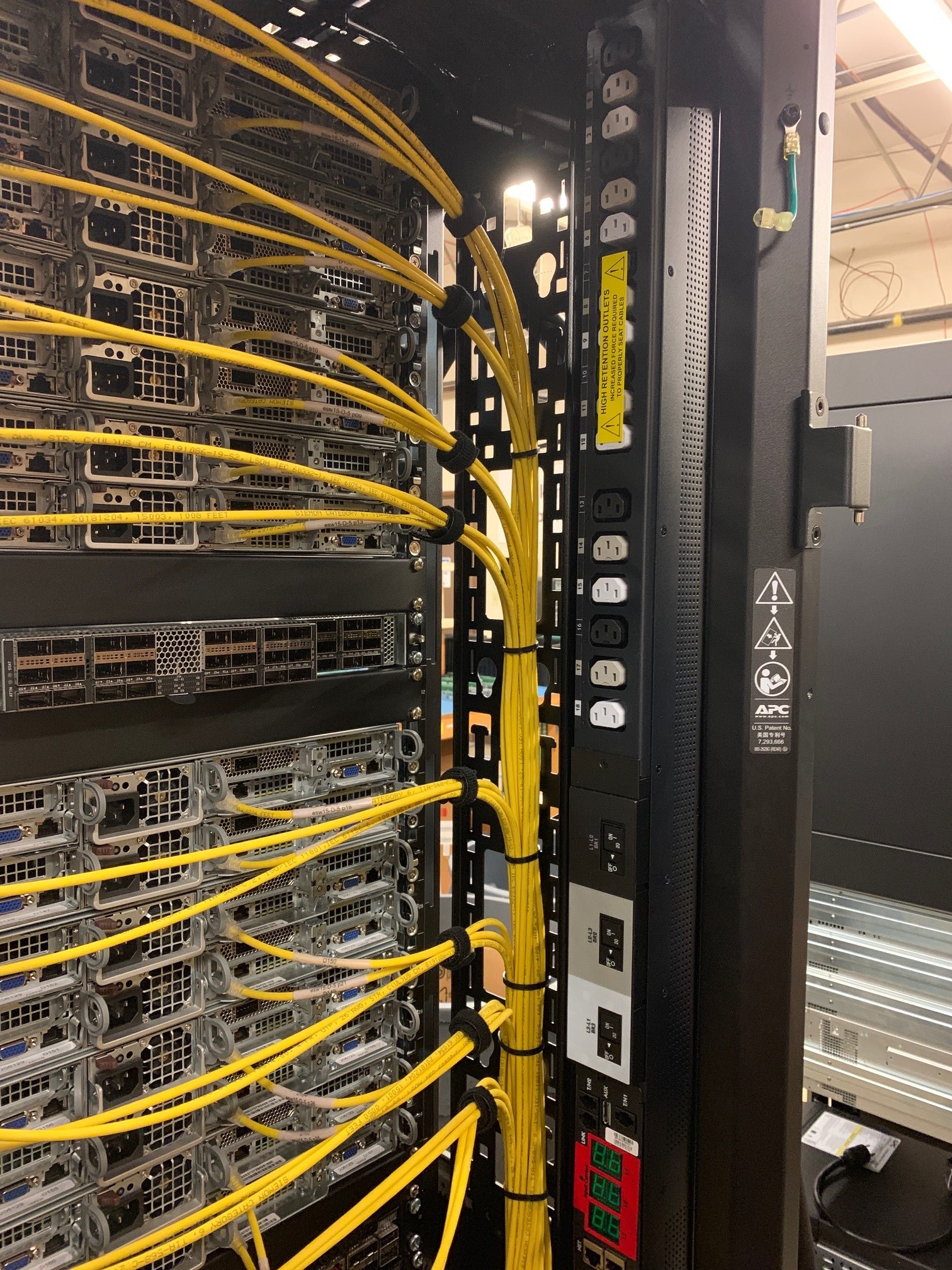 Beautiful, Elegant Network Cabling
Aspen Systems commitment to quality can be seen clearly in our cabling. Cabling is often a mess when working with rack systems, which is why an effective cabling strategy is critical to the long-term TCO of your system. Organized, consistent, clearly-labeled cabling can shave hours off of maintenance tasks, and improperly cabled or unlabled systems can put your entire organization on halt while engineers struggle to find the correct configuration.
Aspen Systems prides itself in beautiful, organized, easy to manage cabling. This applies to network cabling, power cords, and liquid coolant lines. The engineers at Aspen Systems are dedicated to providing quick, clean access to a well-ordered, uncluttered rack system. This means one less thing to worry about for you. Avoid the headaches and have the engineers at Aspen Systems methodically fill your racks for you in a way that just makes sense.
Everything can be customized, from the length of the cables to the exact labeling. Each cable can be independently customized based on the position of the node in the rack and it's placement relative to the switch — a perfect fit into every single port. Alternatively, you can allow additional cable length for extra slack, allowing greater freedom in configuration.
Keep Track of Your Racks
Another important service offered by Aspen Systems is the labeling of Rack systems. When dealing with dozens of racks, each with dozens of nodes, the labeling of the racks and nodes becomes important. We will work with you to define a naming scheme to easily determine which physical node corresponds to logical addresses in your management software.